Halaman ini berisi daftar cheat code untuk The Warriors versi PS2. Cheat ini berguna untuk membuka beberapa fitur yang ada di dalam game, termasuk bonus credit dan cheat darah (HP).
Masukkan cheat kode ini dengan controller kamu kapanpun saat bermain. Masukkan kode lagi untuk menonaktifkan cheat-nya.
Cheat The Warriors PS2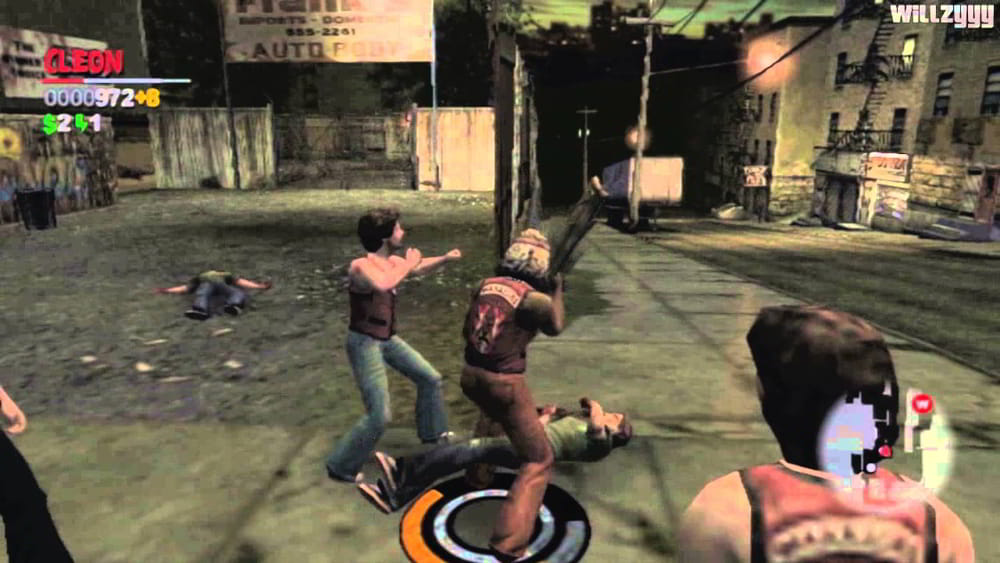 Ada juga code untuk mendapatkan 99 credit saat bermain mini game Armies of the Night.
| Cheat | Efek |
| --- | --- |
| L1, Select, Kotak, Bawah, L2, Kanan | Game tamat 100% |
| Bawah, Kotak, X, Select, R1, Left | Menyelesaikan misi yang aktif |
| R1, R2, L1, X, Bawah, L1 | Mendapatkan $200, 3 flash, dan cans |
| Kotak, R2, Bawah, Bawah, L1, L1 | Mendapatkan sebuahbat |
| Bawah, Bawah, Select, Atas, Atas, L3 | Mendapatkan sebuahknife |
| L1, X, R1, R1, Select, R2 | Mendapatkan sebuahmachete |
| R2, O, Select, Atas, L1, Kanan | Mendapatkan sebuahpipe |
| Atas, Segitiga, L3, Select, X, L2 | Infinite health |
| Kotak, O, Segitiga, Select, X, Left | Infinite rage |
| Bawah, Kotak, Left, X, L1, Select | Infinite sprint |
| Atas, Select, X, Segitiga, Segitiga, Kotak | Kabur dari polisi |
| L3, L3, O, Atas, O, Select | Bat tidak bisa hancur |
| O, O, Bawah, R2, L2, O | Membuka bum advice Atasgrade |
| X, L1, Bawah, Kotak, Atas, X | Membuka combat stamina Atasgrade |
| L2, X, R2, L1, L1, O | Membuka flash capacity Atasgrade |
| Bawah, Left, Atas, Atas, Kotak, Kanan | Membuka flash Atasgrade |
| Atas, X, Atas, Select, L3, L1 | Membuka handcuff drops |
| Left, X, X, R2, L1, Bawah | Membuka handcuff key drops |
| R1, R1, L1, R1, L1, Atas | Membuka hobo alliance |
| L2, Select, Select, Select, Select, Segitiga | Membuka sprint stamina Atasgrade |
| O, O, O, L1, Select, Segitiga | Membuka brass knuckles |
| Segitiga, Segitiga, Segitiga, Select, Segitiga, R1 | Membuka self-uncuff |
| R3, R2, R1, L3, L2, L1 | Membuka steel-toe boots |
| Kanan, R1, O, X, Select, Kotak | Membuka weapons dealer |
Unlockable The Warriors PS2
Untuk kamu yang lebih suka membuka fitur daripada menggunakan cheat, beberapa fitur bisa didapatkan dengan menyelesaikan tantangan tertentu
| Efek | Cara Unlock |
| --- | --- |
| Membuka Fury Difficulty | Selesaikan game dalam mode hardcore solider untuk bermain sebagai gang Baseball Furies |
| Armies of the Night Mini Game | Selesaikan game untuk membuka difficulty dan selesaikan semua misi untuk membuka arcade box. |
| Extra Damage, Health, dan Equipment | Selesaikan bonus missions |
| Adelphion sebagai karakter Rumble | Bantu untuk mengembalikan kostum Tiki |
| Brass Knuckles | Kalahkan Hurricanes saat Turf Invasion |
| Hand Cuffs untuk digunakan | Tangkap The Coney Stalker |
| Menambah kapasitas Flash | Pergi ke Twiggy store dan dapatkan foam finger saat menggunakan flash |
| Kunci | Free Twiggy's contacts. |
| Sepatu Steel Toe | Kalahkan the Jones Street Boys saat Turf Invasion. |
| Big Moe | Tag semua Boppers burners di misi Sharp Dressed Man |
| Chatter Box | Selesaikan Encore (chapter 8). |
| Cobb | Selesaikan Home Run (chapter 16). |
| Electric Eliminators | Dapatkan 8,000 points di Writers Block (chapter 6). |
| Panzers | Dapatkan 8,000 points di Writers Block (chapter 6). |
| Recruit bums | Selesaikan the Feed the Bums bonus mission. |
| Flashback Mission A | Selesaikan the Blackout (chapter 4). |
| Flashback Mission B | Selesaikan Real Heavy Rep (chapter 5). |
| Flashback Mission C | Selesaikan Writers Block (chapter 6). |
| Flashback Mission D | Selesaikan Encore (chapter 8). |
| Flashback Mission E | Selesaikan Boys In Blue (chapter 11). |