Kurcaci adalah NPC yang nantinya bisa dimintai tolong untuk membantu pekerjaan di kebun & peternakan. Masing-masing mereka memiliki warna yang berbeda. Kamu bisa membaca tentang mereka di buku perpustakaan yang berjudul The 7 Brothers in the Forest.

Kurcaci bisa dimintai tolong untuk menyiram tanaman, mengurus hewan peternakan, memanen hasil kebun. Tetapi, kalian tidak bisa mengajak mereka saat pesta teh (Spring).
Ulang Tahun Kurcaci
| Warna | Nama | Ulang Tahun |
| --- | --- | --- |
| Ungu | Bold | Spring 4 |
| Biru gelap | Staid | Spring 15 |
| Biru terang | Aqua | Spring 26 |
| Hijau | Timid | Summer 16 |
| Kuning | Hoggy | Fall 10 |
| Merah | Chef | Fall 14 |
| Orange | Nappy | Winter 22 |
Kesukaan Kurcaci
| | |
| --- | --- |
| Sangat Suka | Chocolate Cookie, Strawberry Jam, Sweet Potato (dish), Flour, Grape Jam, Turbojolt XL, Honey, Butter, Pizza, Bodigizer, Chocolate Cake, Cake, Fruit Juice, Strawberry Milk, Apple Jam, Relaxation Tea Leaves, Yarn Ball, Jewelry, Apple Pie, Bread, Relaxation Tea, Hot Milk, Bodigizer XL, Cookie, Omelet, Wine, Mixed Juice, Pumpkin Pudding, Wild Grape, Raisin Bread |
| Suka | Cheese, Fruit Latte, Rice Omelet, Tomato Juice, Pink Cat Flower, Truffle, Apple, Wool, Toy Flower, Mushroom Rice, Blue Grass, Golden Egg, Vegetable Juice, Jam Bun, Turnip, Cheese Fondue, Stew, Mayonnaise, Moondrop Flower, Orange Cup Fruit, Chocolate, Egg, SUGDW Apple, Cheesecake, Red Magic Red Flower, Pineapple, Pumpkin, Carrot, Boiled Egg, Oil, Red Grass, Grape Juice, Blue Magic Red Flower, Ice Cream, Spinach, Turbojolt, Milk, Mixed Latte, Strawberry |
| Netral | Spa-Boiled Egg, Ketchup Recipe, Truffle Rice, Popcorn, Corn, Fries, Veggie Latte, Tomato, Veggie Pancake, Fish Food, Winter Lumber, Stir Fry, Roasted Potatoes, Mushroom, Ketchup, Dinner Roll, Fodder, Miso Soup, Fried Rice, Sandwich, Rice Ball, Small Fish, Lumber, Salad, Bamboo Shoot, Bamboo Rice, Cucumber, Eggplant, Onion, Bandage, Sweet Potato, Cabbage, Green Pepper, Chicken Feed, Curry, Tempura, Grilled Fish, Potato |
| Tidak Suka | Pickled Turnips, Chirashi Sushi, Curry Powder, Sushi, Fried Noodles, Scrambled Eggs, Noodles, Pickles, Greens, Medium Fish, Curry Noodles, Sashimi, Large Fish, Happy Eggplant, Tempura Noodles |
| Benci | Dead Weeds, Green Grass, Garbage, Copper Ore, Food Fiasco, Gold Ore, Weeds, Branch, Poisonous Mushroom, Adamantite, Stone, Orichalcum, Mystrile, Silver Ore, Winter Stone, Fries Recipe, Winter Branch |
Pesta Teh Kurcaci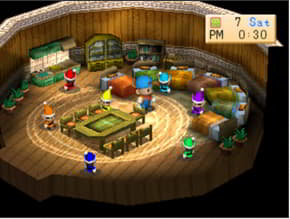 Saat musim panas/spring, para kurcaci akan mengadakan pesta teh. Oleh karena itu, kalian tidak bisa meminta tolong mereka untuk membantu pekerjaan.
Tetapi masih ada cara untuk ikut pesta teh mereka dan mendapatkan Relaxation Tea Leaves.
Syaratnya:
Ukuran tas besar / Large Rucksack
7 Tepung / Flour
Untuk ikut pesta teh kurcaci, datanglah ke rumah mereka di belakang gereja saat musim panas / spring sekitar pukul 03.00pm – 04.00pm. Berikan masing-masing 1 buah tepung agar mereka mengajakmu ke pesta teh mereka. Setelah selesai, buka inventory untuk melihat Relaxation Tea leaves.
Pekerjaan Kurcaci
Semakin sering kalian meminta bantuan, semakin cepat juga cara mereka bekerja. Tetapi affection atau tingkat hati mereka akan berkurang jika kalian tidak memberikan apapun.
Masing-masing kurcaci hanya bisa melakukan 1 dari 3 pekerjaan, yaitu:
Panen hasil kebun & peternakan
Menyiram tanaman (bibit)
Mengurus hewan
Dan, masing-masing dari mereka bisa melakukan pekerjaan tersebut dalam rentan waktu tertentu, yaitu:
1 Hari full (mulai besok)
3 Hari full (mulai besok)
1 Minggu full (mulai besok)
Oh ya, untuk perihal mengurus hewan, kalian harus lebih cepat masuk ke kandang daripada kurcaci untuk mendapatkan hasil ternak, karena mereka akan menjual semua hasil ternak seperti susu, telur dan lainnya
Event Kurcaci
Akan ada waktu setelah 4 tahun kalian menjalani aktivitas di dalam game dimana kurcaci mendatangi gereja. Event ini terjadi di malam hari, pergilah ke gereja saat malam dan cari Harris. Akan ada cahaya yang berjalan dan berkata padamu "Walking in the night is scary budum".
Kemudian, Harris dan kamu akan membawanya ke dalam gereja, ternyata ia adalah kurcaci bernama Chef, Ia bilang kalau ia takut berjalan di malam hari, sehingga Pastur Carter memberinya lantern.
---
Referensi:
http://harvestmoonbacktonatureguide.com/characters.html
https://gamefaqs.gamespot.com/ps/446412-harvest-moon-back-to-nature/faqs/26294
https://harvestmoon.fandom.com/wiki/Harvest_Sprites_(BTN)