Mary, ia seorang gadis yang pendiam dan pemalu. Mary sering menghabiskan waktu di perpustakaan yang ada di samping rumahnya. Sainganmu untuk mendapatkan Mary adalah Gray, Mary adalah anak dari Basil dan Anna.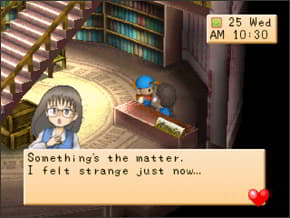 Ulang tahun: Winter 20, jika kalian memilih tanggal yang sama, maka berubah menjadi 25 Winter.
Jadwal Mary
Setiap hari, kecuali Mon (Cerah/Hujan)
06.00am – 10.00am
Di rumah
10.00am – 04.00pm
Perpustakaan
04.00pm – 12.00am
Di rumah
Mon (Cerah)
06.00am – 07.00am
Di rumah
08.00am – 10.00am
Mother Hill
11.00am – 01.00pm
Di rumah
01:40pm – 04.00pm
Supermarket
04:50pm – 12.00am
Di rumah
Mon (Hujan)
06.00am – 01.00pm
Di rumah
01:40pm – 04.00pm
Supermarket
04:50pm – 12.00am
Di rumah
Kesukaan Mary
| | |
| --- | --- |
| Sangat Suka | Red Grass,Turbojolt XL,Cheese Fondue,Grape Jam,Bodigizer XL,Tomato Juice,Relaxation Tea Leaves,Mushroom,Mushroom Rice,Veggie Latte,Turbojolt,Bodigizer,Blue Grass,Relaxation Tea,Raisin Bread,Poisonous Mushroom,Green Grass,Truffle,Bamboo Rice,Vegetable Juice,Pumpkin Pudding,Bamboo Shoot,Truffle Rice |
| Suka | Jam Bun,Red Magic Red Flower,Grape Juice,Greens,Toy Flower,Cookie,Mixed Latte,Dinner Roll,Honey,Cheesecake,Strawberry Jam,Fruit Latte,Milk,Ketchup,Mayonnaise,Sushi,Wild Grape,Ice Cream,Moondrop Flower,Spinach,Yarn Ball,SUGDW Apple,Fruit Juice,Apple Jam,Wool,Sweet Potato (dish),Pink Cat Flower,Golden Egg,Blue Magic Red Flower,Jewelry,Apple,Apple Pie,Strawberry Milk,Mixed Juice,Boiled Egg,Cheese,Pumpkin,Cake,Green Pepper,Orange Cup Fruit,Hot Milk |
| Netral | Omelet,Stew,Gold Ore,Tempura,Salad,Cucumber,Eggplant,Corn,Tempura Noodles,Bread,Tomato,Pineapple,Chirashi Sushi,Potato,Rice Omelet,Sashimi,Adamantite,Pizza,Turnip,Rice Ball,Fried Noodles,Sandwich,Grilled Fish,Flour,Mystrile,Scrambled Eggs,Spa-Boiled Egg,Miso Soup,Chocolate Cake,Chocolate Cookie,Roasted Potatoes,Curry Noodles,Wine,Onion,Oil,Curry Powder,Cabbage,Fish,Stir Fry,Orichalcum,Egg,Strawberry,Carrot,Noodles,Popcorn,Silver Ore,Chocolate,Copper Ore,Sweet Potato |
| Tidak Suka | Fries,Curry,Veggie Pancake,Butter,Happy Eggplant,Pickles,Fried Rice,Pickled Turnips |
| Benci | Lumber,Garbage,Winter Stone,Dead Weeds,Bandage,Stone,Chicken Feed,Fodder,Fries Recipe,Branch,Fish Food,Winter Branch,Food Fiasco,Winter Lumber,Ketchup Recipe,Weeds |
Event Hati Mary
Black Heart Event – Hati hitam
Datanglah ke perpustakaan pada musim Spring di tahun pertama, akan ada 2 pilihan, pilih :What are You writing" untuk berkenalan dengan Mary dan saling mengenal.
Purple Heart Event – Hati ungu
Sebelum memulai event ini, kamu harus melewati event pertama. Kunjungi perpustakaan dan Mary akan bertanya mengapa kalian mengunjungi perpustakaan, jawablah "Came to read" karena Mary suka membaca.
Blue Heart Event – Hati Biru
Pastikan kamu sudah melewati kedua event di atas, datanglah ke perpustakaan dan Mary akan memberikanmu buku berjudul The Woodcutter and the King. Setelah membacanya, berikan kembali ke Mary. Ia akan menanyakan, karakter favorit kalian siapa. Jawablah Woodcutter agar semakin dekat dengan Mary.
---
Referensi:
https://gamefaqs.gamespot.com/ps/446412-harvest-moon-back-to-nature/faqs/26294
https://gamefaqs.gamespot.com/ps/446412-harvest-moon-back-to-nature/faqs/69342
https://youtu.be/XAV0ed4WqIU
https://youtu.be/8RtGl8S50PQ
https://youtu.be/J7ngkuOwx_g
https://youtu.be/bMDYXwAfs_U